Frequently Asked Questions
Will there be any taxes, duties, or other costs when i receive my bike?
The backer will be responsible for any additional costs that your government authority imposes on Stark Drive. The good news is that the bike is unbelievably affordable at only 399 USD for the base model which means that any additional costs will be marginal and all of our paperwork will clearly state only your purchase price when shipped to you. Sweden imposes only a 6% duty rate on electric bikes and the USA currently imposes 0% additional import duty. Note that VAT/GST and DUTY are different things. Import duty is additional to the normal taxes that are associated with your country as a means of equalizing the import of goods to local levels. Taxes or VAT vary per country with the majority of the EU at 25%. In Certain instances we prepay these fees to speed the import of your bike and will need to be covered in order to receive your bike.
You can see here for more information about your countries tax regulations.
What are the regulations for my country to ride Stark Drive?
Whether or not you need a license is dependent on your specific country as they have all adopted their own rules on electric driven means of transportation. For a general overview see here, otherwise it would be good to consult with your local motor vehicle office.
The top speed of Stark Drive is computer controlled and by default for our base model is set to 25kph. These computer settings can be user controlled.
What Upgrades or Accessories are available for Stark Drive?
There are literally millions of accessories available for bicycles on the market compatible with Stark Drive but we will be developing our own custom tailored branded accessories that include front and rear racks, carry bags, locking gear and much, much, more. Have a special request? Contact us!
What is your return policy?
STARK DRIVE WARRANTY & RETURN POLICY
After Delivery Stark Drive offers a No-Questions-Asked 30 day return policy when purchased at our store non inclusive crowdfunding periods so long as it's in the original condition as when you received it, original packaging etc. Return shipping is the responsibility of the buyer.
Unlike a traditional store, Stark Drive takes the funds and immediately transfers them to our manufacturing partner to being production of your order. This is a crowdfunding venture meaning that unlike a traditional store, there is no possibility for refunds when you support Stark Drive. There is a possibility to upgrade/change your order and receive a credit for your previous order by placing a follow up order and sending us an email with both your new order and old order whereby we will then be able to refund your old order. During our crowdfunding campaign backers are offered rewards for helping with our launch and we endeavor to fulfill these rewards at our earliest opportunity.
All Stark Drive products carry a 30 day satisfaction guarantee*1 as well as a 180 day manufacturer's warranty*2.
We may elect to not accept or authorize return of products that are not in their unopened, original packaging, or have been altered or modified with third-party or aftermarket parts or components. Any unauthorized returns may be treated as unwarranted requests.
*1 The 30 day satisfaction guarantee states that if you purchased the product directly from StarkDrive.bike, then for the first 30 days after the original delivery date of your order, if for any reason you are not satisfied with the purchase and you have not broken the seal or removed the product from the original packaging, then you may contact Stark Drive Customer Support (hello@starkdrive.com) to obtain a return authorization number and shipping instructions.
Once the product has been returned to us and has been ascertained to be complete (including the "original sealed" product box, with the unit in its original packing materials) and undamaged. Your purchase price, less shipping and handling, will be refunded to you. We do not refund any shipping costs, and we may have to charge you extra if your original real shipment costs were greater than our invoiced amount. Note that if the product is defective, you may either request a repair or an exchange (per our 180 day warranty).
We cannot guarantee that we will accept returns that have not been authorized by us. This guarantee is limited to one product per customer. No refunds will ever be given after 30 days from the original delivery date.
*2 The 30 day manufacturer's warranty states that, for Stark Drive Electric Bikes, parts and components, if the product fails in normal use (with no "customer-induced failure" and no customer changes or modifications to the product) within the first 30 days of ownership, then we will refund or replace it (at our option) at no charge to you except for your cost of shipping it to us. International orders must pay shipping, handling, and any import or export related expenses for both directions of the shipment. For most US orders, there are no shipping charges for the shipment of the replacement to the customer on warranted product, if ground shipping is selected.
Stark Drive is custom manufactured for each backer depending on the options he/she chooses during the configuration process. If Stark Drive is configured with options or add ons such that modify the bike from its stock, standard or default configuration that is fixed as standard when landing on the configuration page it involves variances from the default construction of Stark Drive thereby restricting or eliminating the ability to return stark drive without a fee to compensate for these upgrades that will be assessed on a case by case basis. Furthermore, if a configured bike is backed through our crowdfunding venture and a claim is filed through the payment processor we reserve the right to cancel the delivery of your Stark Drive whether the claim is successful or not. Such claims have a dramatic effect on our entire logistics process as each Stark Drive is unique when configured outside the default configuration.
Please contact Stark Drive Customer Support (hello@starkdrive.com) to obtain a return authorization number and shipping instructions, and to determine if this warranty applies to your case. We cannot accept returns that have not been authorized by us.
Please note: We never warrant Stark Drive products with electronic or mechanical components that have been modified or altered, or replaced with third-party parts, or products that show any signs of misuse.
Refund and replacement are your only remedies under our warranty.
Your only remedy under our warranty is the above mentioned refund (30 day satisfaction guarantee) or the replacement (30 day warranty) of your eligible Stark Drive product as described above. Neither this warranty nor any other warranty, express or implied, including, but not limited to, the implied warranties of merchantability and fitness for a particular purpose, shall extend beyond the 30 day warranty period.
Under no circumstances shall Stark Drive Electric Bikes be liable for any special incidental, indirect or punitive damages or for any consequential damages, even if Stark Drive Electric Bikes knows or is informed that such damages are possible.

Is the price really 399 USD?
As we said in our video, what was holding us back from owning an electric bike was the high price both here in Sweden and after research, also throughout the world. there was the option to buy a used electric bike but who knows what you are getting there? We set out to make an affordable, high quality electric bike that would outperform anything on the market, not only now but forever.
I live in Stockholm! Can i get the bike from you directly?
Unfortunately, all bikes need to be shipped directly from our manufacturer to the customer so it will not be possible to pick the bike up from our offices in Stockholm, Sweden, but your welcome to come by say hello and try Stark Drive out.
How much do you charge to ship?
Shipping costs are calculated when you input your shipping location on checkout. Shipping costs depends on shipping location. We ship to any country in the world for shipping. We have embraced the direct-to-customer model of shipping and this works well with a crowdfunding campaign.
Does this need to be assembled at a Bike Shop or can i do it?
Stark Drive arrives to your home 95% assembled. You will only need to attached the handlebars and front wheel, this is very easy to do but with anything else we would recommend you take it to the professionals if you are worried. It's important that the wheel is attached properly as the front brakes depend on it.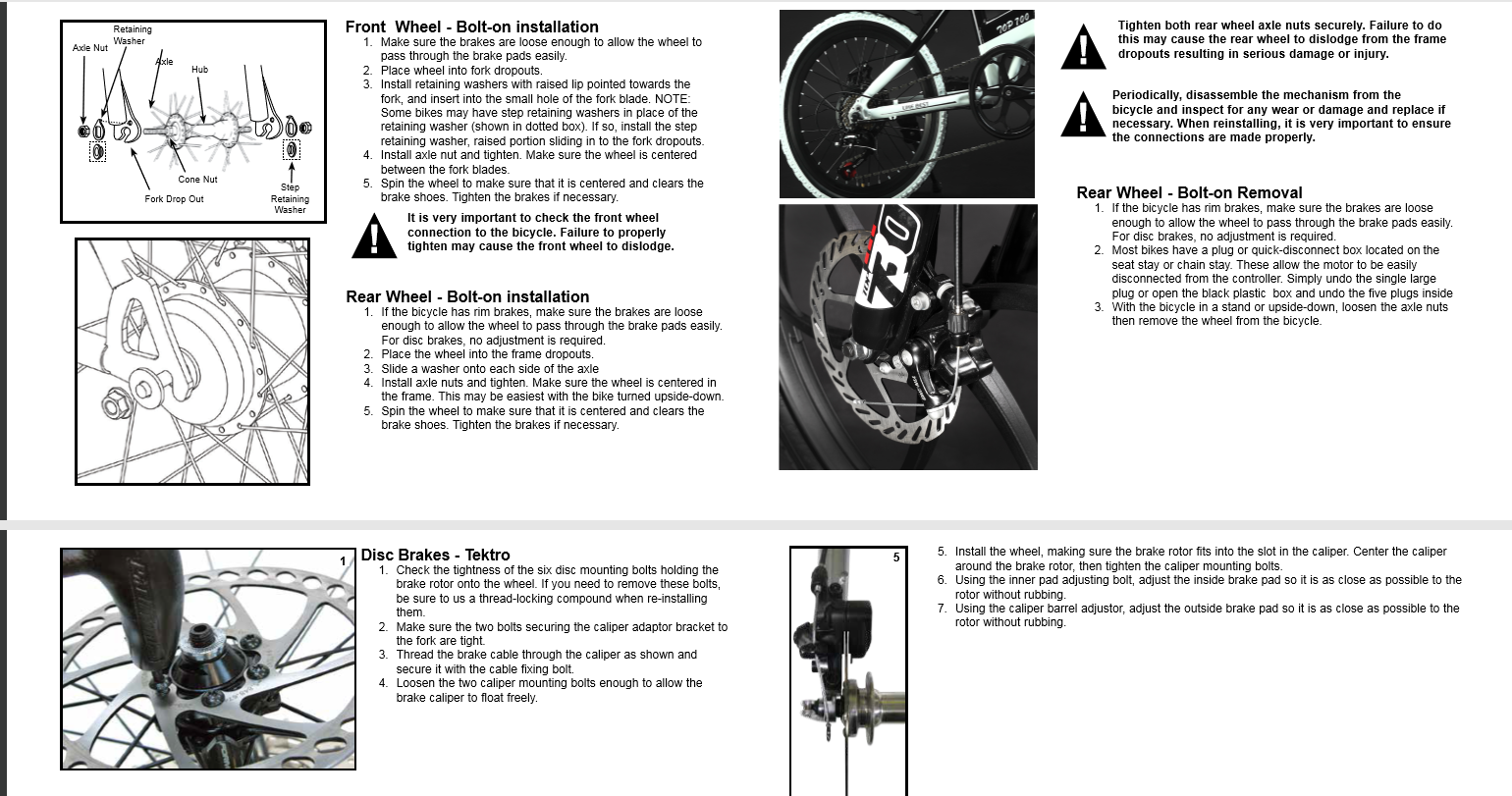 Assembly Manual Link:

Display Manual Link:

Does Stark Drive work like a normal bike with the battery removed?
With the battery removed the bike is lighter and functions just like a normal bike.
Why have you set your target at 399 USD?
For us the target was to achieve something that no one else has ever achieved and although easier, although much easier, the 499 USD price point was already taken by someone else. In the future we are setting our sights at even better price points. The caveat with this price being that we need a certain minimum purchase quantity for our supplier to fulfill our purchase contract.
How much does Stark Drive weigh?
Stark Drive Hardtail: 18.8 Kg Without Battery, 21kg With Battery (41.4 lbs / 46.2 lbs respectively) Stark Drive Full Suspension: 19.2kg without Battery, 21.4 kg With battery (42.3 lbs / 47.1 lbs respectively)
Where are all the electrical Systems? (Battery, GPS, etc)
From the beginning we have wanted to design an electric bike that does not look electric therefore we have found a way to hide all components within the frame of the bike. The battery is removable if you want to take it out and charge it during your journey.
How and where are you manufacturing Stark Drive?
We have partnered with a manufacturer in Asia for the production of Stark Drive. The hardest component for our bike was to find a reliable, renowned, and certified manufacturer of the battery packs for Stark Drive. This we have found and they have teamed up with our Assembly team to produce the worlds most affordable electric bike. We have gone so far as to hire a team based in Asia for supply chain management, and quality control. We won't leave anything to chance.
What is the weight limit for Stark Drive?
We have tested Stark Drive to work for a weight of up to 150kg.
How long does the battery last?
The battery longevity depends on the Ah capacity, and we offer 3 different capacities: 9Ah, 13Ah, and 17Ah. With pedal assist, under optimal conditions, you are looking at 60km 85km, and 120km respectively.
What is the warranty on Stark Drive?
Stark Drive comes with a 6 months Parts warranty for any component that fails due to manufacturers defect. (note that ours is 6X longer then competitors in our class of bikes) Parts that require replacement due to wear are not covered.

Stark Drive is designed to last!

That being said, for those that feel more comfortable with a longer warranty you are able to purchase warranty up to 2 years as an option.
What should my height be in order to ride comfortably?
Unlike 20" tire folding bikes, Stark Drive can be adjusted to comfortably pedal with 140cm up to 210cm by adjusting the seat. If you look at even average height people riding a 20'' tire bike you will notice when they pedal they have to stand, not the case with Stark Drive.
When do you plan to deliver?
Our manufacturing partner and Stark Drive LLC have a frame agreement signed and they are ready to produce as soon as we transfer funds. Our anticipated delivery for our early bird backers is Fall 2017 for Batch 1. We update our blog regularly and there you will find the latest information about factory production. Check there first.
Stark Drive Bike Measurements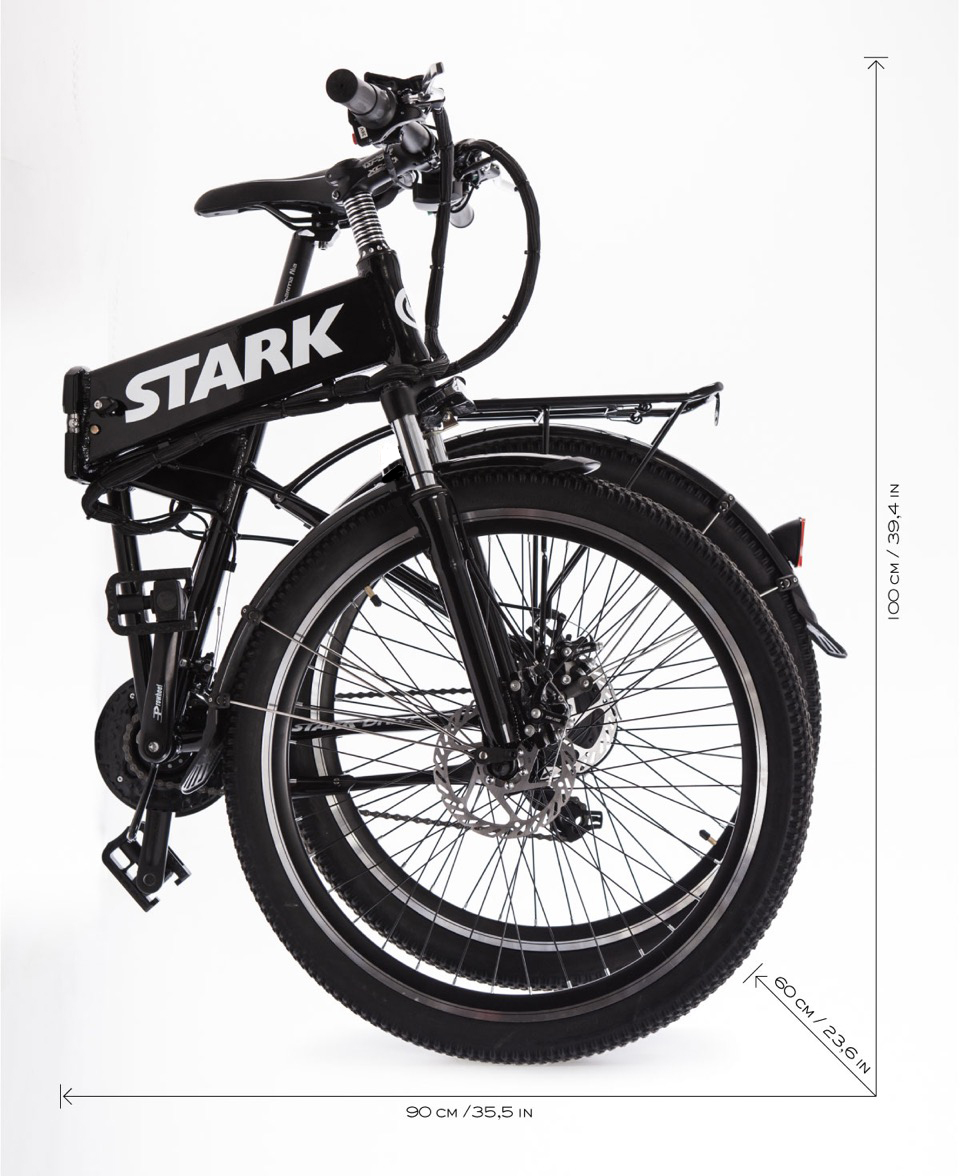 Torque Versus Cadence Sensors
Stark Drive currently uses a Cadence Sensor but we are going to be launching a Torque Sensor Model via crowdfunding in 2018. But what is the difference between Torque and Cadence sensors?
Basic Cadence Sensor
The basic cadence sensor uses a magnet on the crank, it turns the motor ON when you start pedaling and turns it OFF when you stop pedaling. It works more or less like a switch.
You have to control the boost level and speed by adjusting the assist mode manually up and down. Most basic e-bikes have this.
The advantage it is an inexpensive way to get some sort of pedal assist onto the bike, but the disadvantage is that the pedal assistance can feel jerky, laggy and counterintuitive.
Torque Sensors
The torque sensor is a totally different technology that uses a precision strain gauge. It measures your actual force on the pedal, sampling at 1,000 times per second over the entire pedal stroke.
The harder you pedal, the more power it gives to the motor. If you pedal lighter, less power goes to the motor. It makes this adjustment in real time so it is technically amplifying your every input. It feels like you are bionic.
Most all higher end bikes use torque sensors. The disadvantage is the cost is significantly higher to implement this technology.
Where do you deliver?
Stark Drive delivers to our crowdfunding backers worldwide. (However currently not to the Arctic or Antarctica)
What is a crowdfunding campaign?
Crowdfunding is a way of funding a specific project by raising donations from usually through a time limited campaign. Stark Drive chose to use the crowdfunding campaign to be transparent to our backers about our status as a start-up company. At this time, we are well into the funding goals and the bikes are in production. In returning for your donation, we commit to gift to you our end product: the electric bike of your choosing, based on the package your donated to, and any accompanying accessories. As with all crowdfunding campaigns, there is the slight chance that you may not receive your gift. Stark Bike does not anticipate this to occur with our campaign as we are already in production and delivery has already begun for our earliest backers.