Frequently Asked Questions
Will there be any taxes, duties, or other costs when i receive my bike?
The receiver will be responsible for any additional costs that your government authority imposes on Stark Drive.
The good news is that the bike is unbelievably affordable starting at only 399 USD for the base model which means that any additional costs will be marginal and all of our paperwork will clearly state only your purchase price when shipped to you.
The EU has has in recent years introduced an anti dumping duty (https://www.eubusiness.com/news-eu/china-bicycles....) rate on electric bikes.

The USA has no Federal additional import duty, having removed a 25% duty in early 2020. Charges may still be incurred through the last mile carrier if they do not follow federal guidelines however we are working with our logistics partners to ensure this is not the case.
Note that VAT/GST and DUTY are different things. Import duty is additional to the normal taxes that are associated with your country as a means of equalizing the import of goods to local levels. Taxes or VAT vary per country with the majority of the EU between 19 - 25%. In Certain instances we prepay these fees and invoice our customers to speed the import of your bike and will need to be covered in order to receive your bike.
You can see here for more information about your countries tax regulations.
Please contact us if you have any questions so that we can give you the latest information as governmental policy is changing on a weekly basis and we can provide you the latest information we are aware of as of the the current date.
What are the regulations for my country to ride Stark Drive?
Whether or not you need a license is dependent on your specific country as they have all adopted their own rules on electric driven means of transportation. For a general overview see here, otherwise it would be good to consult with your local motor vehicle office.
The top speed of Stark Drive is computer controlled and by default for our base model is set to 25kph. These computer settings can be user controlled.
What Upgrades or Accessories are available for Stark Drive?
There are literally millions of accessories available for bicycles on the market compatible with Stark Drive but we will be developing our own custom tailored branded accessories that include front and rear racks, carry bags, locking gear and much, much, more. Have a special request? Contact us!
What is your return policy?
Is the price really 399 USD?
As we said in our video, what was holding us back from owning an electric bike was the high price both here in the Nordics (Sweden, Norway, Denmark, Finland) and after intensive research, throughout the world including where our company is based in the USA. there was the option to buy a used electric bike but who knows what you are getting there? We set out to make an affordable, high quality electric bike that would outperform anything on the market, not only now but forever.
I live in New Jersey! Can i get the bike from you directly?
Unfortunately, all bikes need to be shipped directly from our manufacturer to the customer so it will not be possible to pick up the bike up from our US warehouse but your welcome to come by say hello online through our chat . No direct pickup sales of bikes occur in the USA, the EU or Internationally.
How much do you charge to ship?
Shipping costs are calculated when you enter your shipping information at checkout before payment is made by connecting to our shipping partners (UPS, FEDEX, DHL). Shipping costs depends on shipping location. We ship to any country in the world. We have embraced the direct-to-customer model of shipping and this works well for us.
Assembly Instructions & Does this need to be assembled at a Bike Shop or can i do it?
ALL ASSEMBLY MANUALS & BIKE COMPUTER MANUAL LOCATED HERE
Stark Drive arrives to your home 95% assembled. You will only need to attached the handlebars and front wheel, this is very easy to do but with anything else we would recommend you take it to the professionals (ie: Bicycle Shop) if you are worried. It's important that the wheel is attached properly as the front brakes depend on it. Tuning the brakes is important to ensure the metal disc do not rub against the ceramic brakes.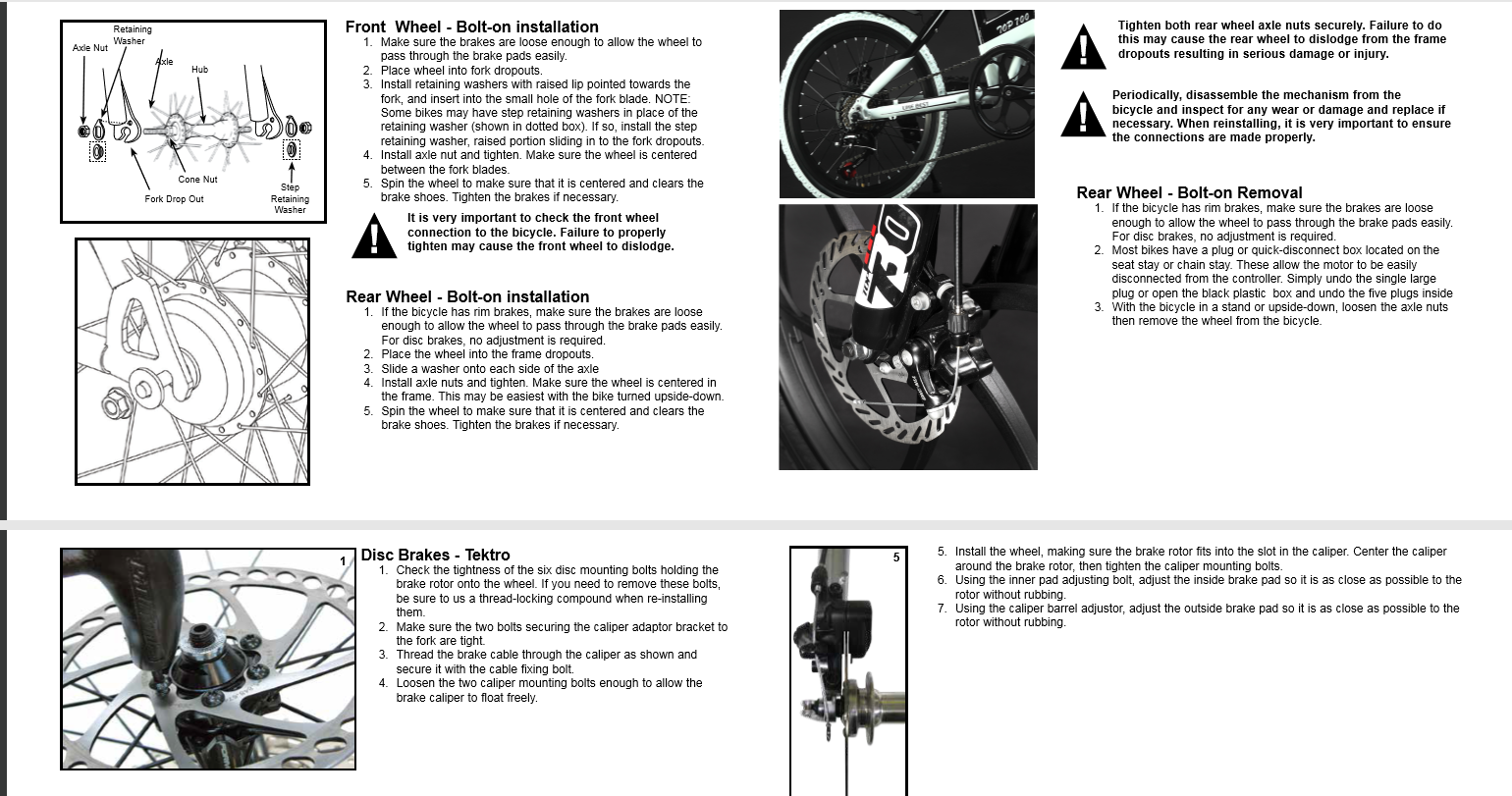 Assembly Manual Link:

Download Stark Drive Manual: shorturl.at/bkmBY
Stark Drive Torque and Torque Max Users Manual
Display Manual Links:

GPS Manual Link (Note a Local SIM must be installed):

Controller Wiring Diagram:
Mini bike Default Display Settings:

shorturl.at/CIMT8
Does Stark Drive work like a normal bike with the battery removed?
With the battery removed the bike is lighter and functions just like a normal bike.
Why have you set your target at 399 USD?
For us the target was to achieve something that no one else has ever achieved and although easier,
although much easier, the 499 USD price point was already taken by someone else. In the future we are
setting our sights at even lower price points for example with our Stark Drive Mini which starts at $299.
The caveat with this price being that we need a certain minimum purchase quantity for our supplier to fulfill our purchase contract.
How much does Stark Drive weigh?
Stark Drive Hardtail: 18.8 Kg Without Battery, 21kg With Battery (41.4 lbs / 46.2 lbs respectively) Stark Drive Full Suspension: 19.2kg without Battery, 21.4 kg With battery (42.3 lbs / 47.1 lbs respectively)
Where are all the electrical Systems? (Battery, GPS, etc)
From the beginning we have wanted to design an electric bike that does not look electric therefore we have found a way to hide all components within the frame of the bike. The battery is removable if you want to take it out and charge it during your journey.
How and where are you manufacturing Stark Drive?
We have partnered with a manufacturer in Asia for the production of Stark Drive. The hardest component for our bike was to find a reliable, renowned, and certified manufacturer of the battery packs for Stark Drive. This we have found and they have teamed up with our Assembly team to produce the worlds most affordable electric bike. We have gone so far as to hire a team based in Asia for supply chain management, and quality control. We won't leave anything to chance.
What is the weight limit for Stark Drive?
We have tested Stark Drive to work for a weight of up to 150kg.
How long does the battery last?
The battery longevity depends on the Ah capacity, and we offer 3 different capacities: 9Ah, 13Ah, and 17Ah. With pedal assist, under optimal conditions, you are looking at up to 60km 85km, and 120km respectively.
Now for the lifetime, after 500 times charging cycle, the battery capacity will reduce to 80%. and after that each 100 charging cycle, the battery attenuation is 10%

Talking range approximation of 25 Wh/mi. Using this approximation, 480 Wh battery should carry most people around 32 km. However, factors such as rider weight and terrain can have a significant impact on range. And you can always increase your range by pedaling along with the motor power

*All range estimates are contingent upon rider and towing weight, riding style, wind speed, terrain, temperature, motor power (high power motors deliver more thrust and draw more current), and battery capacity. Battery should be topped up before being completely empty in order to extend the battery lifetime.
What is the warranty on Stark Drive?
Customers from 2017 or our Original backers: Stark Drive comes with a 6 months Parts warranty for any component that fails due to manufacturers defect. (note that ours is 6X longer than competitors in our class of bikes) Parts that require replacement due to wear are not covered. As of bikes purchased from June 2018, the parts warranty on Stark Drive is 1 month. You can still upgrade to 2 years when configuring or even on the accessories page as long as you do so before your existing warranty expires.

Stark Drive is Designed to Last!
We have customers that backed us in 2017 that still enjoy their bikes and write follow up emails to us about how they love Stark Drive. The only major component that degrades over time is the Battery Pack.

That being said, for those that feel more comfortable with a longer warranty you are able to purchase warranty up to 2 years as an option.
What should my height be in order to ride comfortably?
Unlike 20" tire folding bikes, Stark Drive can be adjusted to comfortably pedal with 140cm up to 210cm by adjusting the seat. If you look at even average height people riding a 20'' tire bike you will notice when they pedal they have to stand, not the case with Stark Drive.
When do you plan to deliver?
Our manufacturing partner and Stark Drive LLC have a frame agreement signed and they are ready to produce as soon as we transfer funds. We update our blog regularly and there you will find the latest information about factory production. Check there first. UPDATE FOR 2020: We have now been shipping Stark Drive for over 3 years and have both custom configurable bikes as well as STOCK bikes which get shipped immediately instead of waiting for a custom bike to be manufactured. The STOCK bikes are optimally configured based on an option popularity algorithm that is continually running for all custom configured bikes.
Stark Drive Bike Measurements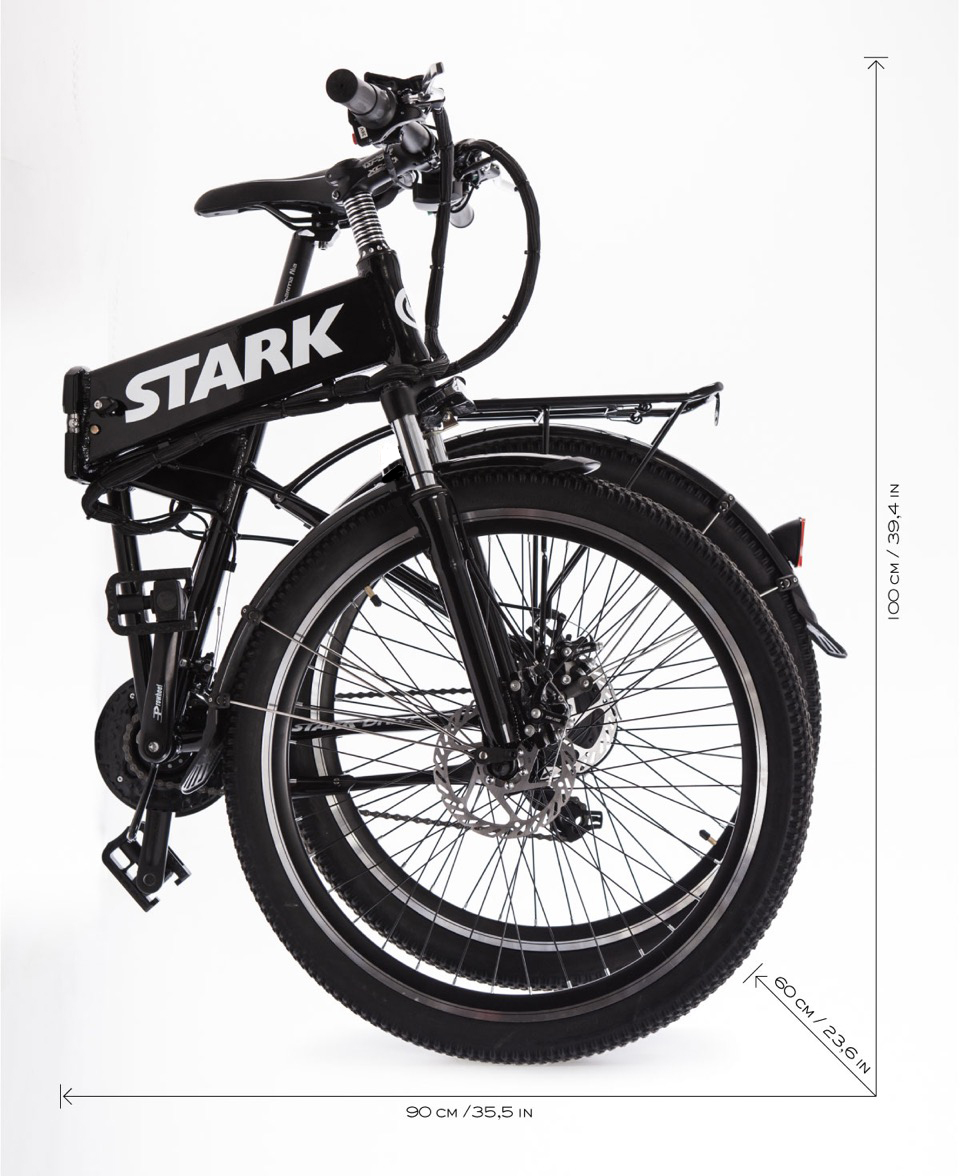 Where do you deliver?
Stark Drive delivers worldwide.
Torque Versus Cadence Sensors
Stark Drive currently uses a Cadence Sensor but we are going to be launching a Torque Sensor Model via crowdfunding in 2021 (Subject to Change). But what is the difference between Torque and Cadence sensors?
Cadence Sensor
The basic cadence sensor uses a magnet on the crank, it turns the motor ON when you start pedaling and turns it OFF when you stop pedaling. It works more or less like a switch.
You have to control the boost level and speed by adjusting the assist mode manually up and down. Most basic e-bikes have this.
The advantage it is an inexpensive way to get some sort of pedal assist onto the bike, but the disadvantage is that the pedal assistance can feel jerky, laggy and counterintuitive.
Torque Sensors
The torque sensor is a totally different technology that uses a precision strain gauge. It measures your actual force on the pedal, sampling at 1,000 times per second over the entire pedal stroke.
The harder you pedal, the more power it gives to the motor. If you pedal lighter, less power goes to the motor. It makes this adjustment in real time so it is technically amplifying your every input. It feels like you are bionic.
Most all higher end bikes use torque sensors. The disadvantage is the cost is significantly higher to implement this technology.
L1e-A Certification
We are exceptionally pleased to announce that as of today, Stark Drive is officially L1e-A Certified as per the eu regulations which can be found here:
L1e-A Certification Whitepaper
What does this mean for anyone with Stark Drive that was backed with greater than a 250W motor? Quite simply, it means that as long as you have not modified Stark Drive in any way, and depending on your local countries regulations (if they differ with this EU Standard) you are now able to use your bike legally in your location no matter where you are in the EU.
You should be extra aware about your local regulations as in many countries an L1e-A certified bike needs to be registered and insured (be sure to consult your local laws and rules) and with registration comes the security that the bike can be tracked if it is stolen or misplaced. This approval that we have received is European Union wide and even those countries that are not part of the EU but rather EEA do adopt similar regulations in order to keep the market common but you will need to consult with your authorities. We will detail more about the registration process in an upcoming blog post but if you have any questions you can email us and we will respond in kind.
Throttle

we have recently reworked our configuration page so that both throttle and cruise control are combined and with the throttle you can choose if you want to pedal or just move quickly up to speed without needing to pedal whatsoever. This is especially useful when you are trying to move uphill from a standstill.
Configure up to 1000W Motor

Up to today we have been offering up to 500W of power for those that need this extra umph depending on rider weight or terrain but now with up to 1000W soon configurable from our hope page you will have the power you need to handle any situation. Tow loads with Stark Drive, leave the car at home and use pure electric power to bring home your groceries from your local market. Take your kids with you wherever you would like with a cargo carrier.
Lights?

Stark Drive has always included a front head light by default at no charge for safety with the rear brake light being optional for those who needed this. Now we have reconfigured the homepage so that the rear headlight options i clearly visible and available without needing to complicate matters by adding it from our accessories page. We highly recommend a rear brake light no matter what motor you choose for Stark Drive.
Helmets?

We always recommend one wears a helmet when using Stark Drive no matter what motor configuration you choose. You only have one head and these dont heal very well when impacted. This is why Stark Drive is developing and soon launching the ultimate LED equipped helmet which you can read about here: https://starkdrive.bike/blog/eu-batch-2-delivery