Master Plan
Stark Drive Master Plan (Updated June 2022)
Phase 1: 2015 (Achieved)
When we started development on the perfect electric bike we knew that the market was a competitive one and that we would have to go directly to a factory and work with the factory owner to negotiate instead of working with companies that are commonly available. We knew that we had to cut out as many middle men as possible in order to bring our end customer the best deal available IN THE WORLD. The bar was set high a few years about with a 499 USD electric bike which was really a leap ahead at the time however it was heavy, lacked in aerodynamics and was improvised to be electric.

Being an engineer by trade (and very good at numbers) I set out to work with a few friends of mine that had the same passion as I did and after we completed a first principles cost analysis of what every single component on an electric bike should cost and the results really surprised us.

After a year of meetings with various factories and hours of contract negotiations, we finally found a factory with the high quality standards we demand and the price we craved.

Phase 2: 2017 (Achieved)
Our Manufacturing partner in Asia has agreed to our extremely aggressive pricing as long as their demand for minimum order quantities are met ensuring a continuous stream of business for them and also enabling them to purchase the raw materials for Stark Drive in bulk quantities further reducing the prices for them and consequently to our end customer.
This is our final design which will be launched to the world through our homepage. Continuous improvement and iteration are two factors that we credit for the standardized and consequently utilitarian design. Not redesigning components have allowed us to use off the shelf parts and moulds from a bike that was originally conceived of Approximately 2011.

Phase 3: 2018 (Achieved)
Launching Stark Drive Mini is in our future plans but what is Stark Drive mini? Once again we are going to be using off the shelf parts and components to bring to market the worlds most affordable 14'' wheeled electric folding bike similar to as shown below with an anticipated weight of 11-13kg. The Starting Price for Stark Drive Mini will be $299 US but we are hopeful that with some ingenuity and hard work we can reduce the price of Stark Drive Mini even further. (photo is for demonstration purposes only)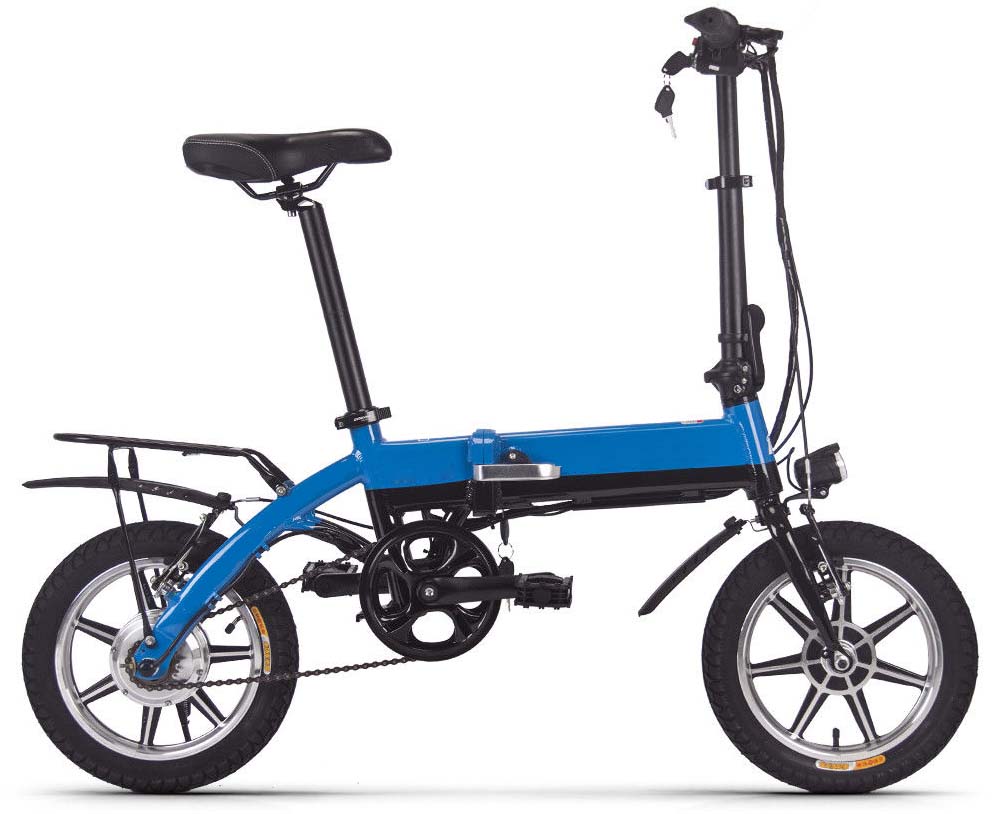 Phase 4: Early 2019 2021 2022 (Achieved)
We have been working hard with our manufacturing partner as well Bafang based in Suzhou, China just outside of Shanghai, China. We have been able to achieve our sourcing goals from Bafang which most importantly included our goal to source the most important component for Stark Drive Torque, that being the Mid Motor Torque drive from Bafang at a cost that ensured that we would be able to manufacture and deliver our torque based ebike at under $1500. We have also worked with Bafang to include a second and significantly more powerful option which would allow us to offer a 1000W mid drive based torque sensing motor with all of 160Nm torque for a price that is unheard of in the industry. Both Bikes will be launching sometime in 2022 (global economics of such a launch permitting). You can find information about the current plans and sign up for information at www.starkdrive.world.
Many of our original backers have asked about a mid drive motor but the costs of these components have remained a barrier for us, let alone the entire industry.
From our knowledge we will be the only electric bike manufacturer in the world with a < $1500 torque sensing electric bike. And yes, of course, it will still be configurable and customizable to your liking so that you receive your perfect bike.

Stark Drive Torque will come in two models, the first below which will be a completely EU legal and certified mid motor drive that will not require any license or special certification in the EU or even in Australia however it will be exceptionally powerful with a 250W mid motor drive that offers better torque (95Nm) than our competition with a hub based motor at 750W (80Nm). This will provide exceptional power, hill climbing ability and towing capacity while still operating within your countries limits.
Stark Drive Torque Max

For those of you planning to use Stark Drive Torque Off road or if your legislation allows, we will be offering Stark Drive Torque Max which has so much power we had to increase the total system wide voltage of the bike to 48V to harness the power of this mid motor drive. SDT Max will be offered exclusively as a fat tire bike with a heavier duty frame, upgraded shocks and main components that work seamlessly with the Bafang Ultra Max Mid Motor drive of which tests and reviews online have shown to be thoughtfully over designed to allow even further performance enhancements which we will work with our backers to upgrade if they see fit.
Stark Drive Torque Max will be released in 750W/1000W operating at a systemwide voltage of 48V with both variants giving our backers the luxury of riding comfortably while commuting to work within the city but also the benefits of being able to go off road trail riding or even scaling the most challenging mountainous terrain. Our launch pricing will be a fraction of what's available on the market today and most important of all is that we have designed both variants from the ground up, not using any off the shelf frames (known as open molds) which has been a common theme in the crowdfunding industry. You can sign up for our launch at www.starkdrive.world where you will be the first to know when we launch as well as receiving special offers that will not be available to the general public.
Phase 5: Stark Drive eVTOL
One of the things that we are very pleased about at Stark Drive is thinking outside the box and nothing demonstrates that more than our drive to succeed and achieve what many have called in the past unachievable such as an electric bike that originally was priced at $399 or even our subsequent even more unbelievable Stark Drive Mini which we launched at $299. Now Stark Drive wants to take to the skies and we have shelved our plans for Stark Drive Carbon for the time being instead focusing our efforts on a pure electric eVTOL which we aim to launch in 2023.
Stark Drive's foray into eVTOLs is not out of the blue entirely, we have been working on developing this idea for the past 3 years with analysis of the current market trends as well as the technologies that would be required to support a craft that would be useful both for work or pleasure. We also wanted to ensure that we were able to provide our customers with something that was configurable not unlike how we designed Stark Drive Electric bikes so that the end user could configure our eVTOL based on their use case scenario and so that in the future they would add features as they saw fit.
We have taken into account advancements in carbon fibre, solid state batteries, AI as well as a host of other technologies in the design and development of Stark Drive's eVTOL. As you can see from the teaser video above we have build our first prototype of the Stark Drive eVTOL and anticipate enhancing the automated flight systems as well as refining the craft over 2023 with a launch in late 2023.
Phase 6: 2024
In an interest to improve both performance and range as well as round out our offerings for folding bicycles, we will be releasing a carbon fiber based fat tire 20'' Mid motor electric bike in 2023.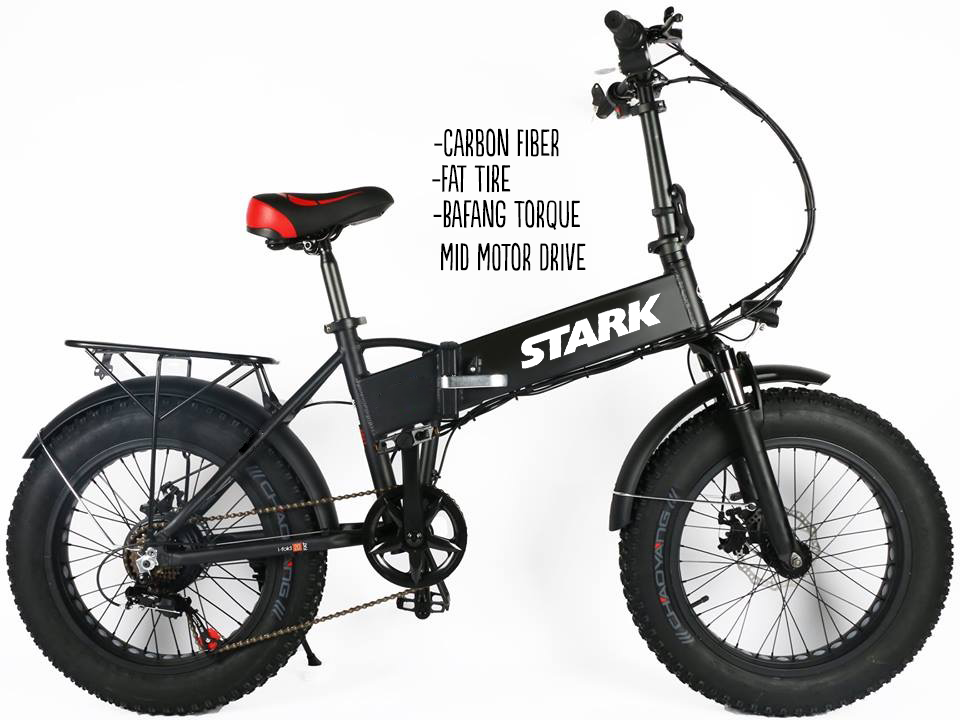 It will look as pictured below but the specifications are preliminary and we now have a prototype that is a WIPO registered design as shown below:
What we do know is that we will be including the most powerful 250W and 1000W Mid Motor Bafang Torque based drives the same as we have with Stark Drive Torque and Stark Drive Torque Max. As the frame will be based on carbon fiber it will be exceptionally light further increasing the range of the bike and making it much lighter compared to our competitors offerings. We will be using the best components available as well as fine tuning the frame above to include rear shocks, front shocks, shimano components as well as Panasonic cells for the high capacity battery pack which fits internally and will top out at 17Ah at 48V (possibly 52V).

The frame design will be ours alone and built from the ground up specifically to accommodate the mid motors available from our partners at Bafang. We will preliminarily be calling this: Stark Drive Torque Carbon.
This will be the most affordable 20'' Folding Electric Bike (Hub Motor or otherwise) available on the market and will be the first with a mid motor torque based drive system.