Description
STARK DRIVE TORQUE - 250W (Boost to 350W)
Stark Drive has produced a limited number of our most powerful bike to date which is in stock and will ship immediately on purchase.
You can contact us at any time with pre-purchase questions through our website chat, hello@starkdrive.com or 1-888-HI-STARK.
Stark Drive Torque is fully loaded and equipped with the most powerful drive system that is offered by Bafang.
Our Patented bike is the first fully loaded mid motor folding bike with features and specifications that exceed that you would find on bikes at 2X the price. The M510.1000W motor is exceptionally well built and can be tuned to operate at over 2500W. All Bafang Mid motor drive systems can be connected to your PC via optional USB in order to fine tune all the settings on the motor.

*In our testing, when the bike was unlocked we were able to achieve of over 50kph/31mph with a 85kg rider.
DIMENSIONS: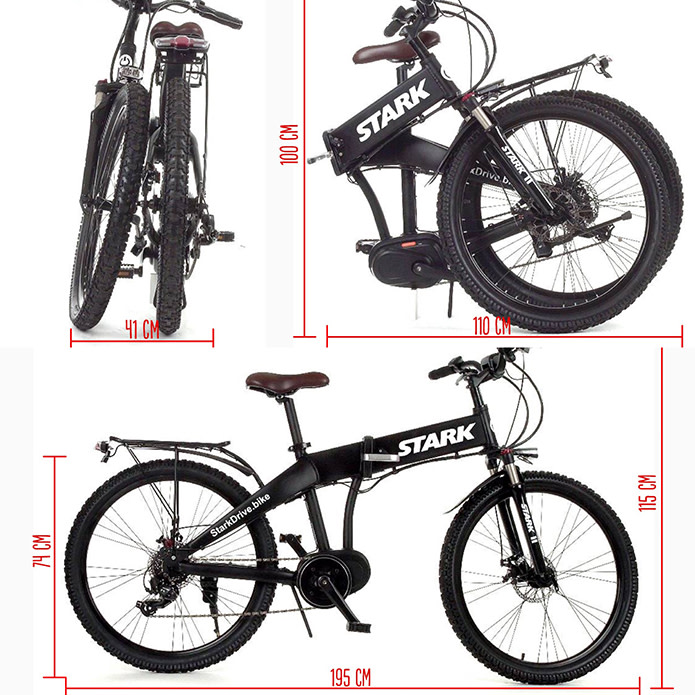 MOTOR SPECIFICATIONS:


BIOMETRICS / SECURITY: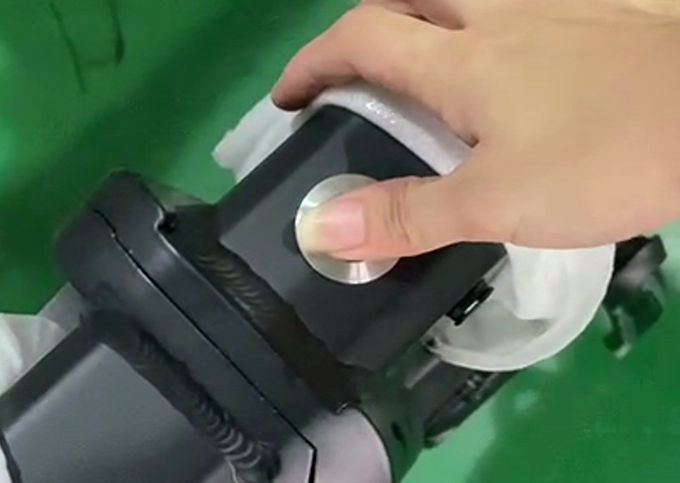 Ultra Wide and Comfortable Control Center
Comfort Grips
rapidfire shifters
wide handlebars for added comfort and space
add features such as bell or phone holder with space to spare
center placed computer for easy viewing
Ultimate Traction, Grippy Fat Tires
Standard with Stark Drive Torque Max
4.0'' (10 cm) Fat Tires with 26'' Wheels
Wide Rims
Specialized for Off Road and the Beach
Puncture Protection for better safety
Composite Aluminium 1-click Folding Pedals

latest style of pedals
durable and weather tested
foldable to save space when transporting
ensures complete power transfer when pedaling
Front Air Suspension
9 Level Suspension adjustment toggle
Addition or removal of internal air volume
Lighter than spring suspension and more adjustable
Configure your perfect ride based on load
The Best RapidFire Shifters
easily accessible
rapidfire shifters
8-speed SHIMANO gears and derailleur
perfectly configured for all terrain types
Premium Unparallelled Security (Fingerprint, NFC, Key)
2 factor security option with either Fingerprint and key
Fingerprint reader can store hundreds of fingerprints
share the bike with your family and friends
weatherproof premium security options not available on other bikes in this price class.
Premium Disc Brakes

High Friction Wide Pad Disc Brakes
More than 2x the stopping power of our first generation
low effort braking with the touch of a finger
easily replaceable standard brake pads
Powerful Redesigned Battery Pack
rebuilt from the ground up with the latest technology
state-of-the-art powerful 48V lithium Ion cells
18ah of capacity at 48V
48V 18ah (864Wh) pack provides assist up to 125km or 78 miles per charge
Protective fuse included in every pack
convenient removal handle
removable: charge both inside or outside the bike
key locking system for extra security that disables the battery
protective undervoltage security system built in
functions with NFC or Fingerprint reader to enable/disable system power
100% Custom Built Frame Design
completely unique frames
Fat Tire
Forged out of 6061 aluminium alloy
approximately 4kg (8.8 lbs) for fat tire
Designed to hide all electrical components internally
hidden fingerprint reader access point
100% weather-proof
Only folding Mid-Motor frame compatible with our chosen Bafang engines
WTO and EUIPO Protected design
Plug and Play Wiring System w/ Computer Link
New to Stark Drive Torque, Color Coded connections
Waterproof design making upgrades easy
Ability to connect to your desktop computer through USB and fine tune the firmware on your motor